Memorial University, Grenfell Campus – Biochar Research with AirTerra's SoilMatrix Biochar
Dr. Mumtaz A. Cheema and students at Memorial University in Corner Brook, NL, have begun forage crop growth experiments with AirTerra's SoilMatrix Biochar product as of June 20 – 27. AirTerra's product was shipped via UPS from Calgary to Corner Brook on May 9th and arrived on May 18th. Pictured here is Dr. Cheema with two of his students standing behind boxes of AirTerra product which all survived the two week trip.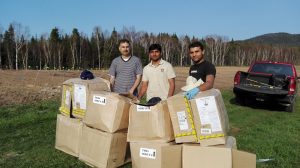 Each test plot has varying application rates of biochar and manure. The experiments will assess impact on forge crop yield, quality, and other characteristics. GHG emissions are also being measured through soil samples and vadose zone gas capture methods.
Also pictured below is a field test plot having biochar blended in at a rate of 20 tonnes/hectare after first applying animal manure.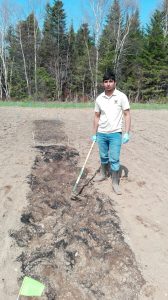 AirTerra's SoilMatrix product is registered with the Canadian Food Inspection Agency (CFIA), which simplifies the regulatory requirements for field trials with biochar.
AirTerra will provide news about the results of this research when it becomes available. Studies like these are of great value for both the biochar and agricultural industries.