2016 Garden Show at Spruce Meadows
Calgary Horticultural Society Garden Show – Spruce Meadows – 2016
This past weekend (April 9-10), AirTerra sold biochar to about 100 avid gardeners who stopped by our booth. Two years ago in the same setting, AirTerra could only describe the benefits of biochar as our registration of the product was still in process with the Canadian Food Inspection Agency (CFIA). All that changed in December 2015 when we received our registration permitting us to sell this lifetime soil amendment product – the first company to do so in Canada.
Given that this is a brand new product in the Canadian market, a significant amount of our time at the Garden Show was spent explaining biochar's lifetime soil benefits to curious passersby. The conversations we had with the public there were really valuable as we learned more about the gardening and landscaping marketplace – its challenges and its needs. We learn new subtleties about the market every time we spend significant time presenting our product to people who will be using it.
At both the 2014 Garden Show and this year, AirTerra partnered with Alberta Innovates Technology Futures (AITF) and the Alberta Biochar Initiative (ABI). These organizations are the Alberta Government's research and industry development arm for enabling the development of a diversified Alberta. ABI is directly focused on the eventual commercialization of a biochar industry in Alberta.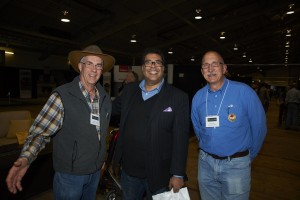 Both Don Harfield and Richard Gibson from AITF were on hand to talk with interested people about the benefits of biochar in gardening. Richard Gibson is credited with making a subtle but important observation about our product tagline which we will add to our SoilMatrix brand label. He noted that the tagline "Biochar – a soil supplement solution" would be more to the point if it read "Biochar – a lifetime soil supplement". This would highlight one of biochar's strongest features – its resilience in soils over long periods of time. Thank you Richard!
Don Harfield, a statesman of the biochar world, added an upbeat dynamic to our presence at the Show. His positive outlook and ability to converse with anyone and everyone kept us going, not to mention his success at welcoming Mayor Naheed Nenshi to our booth. We were able to give the Mayor a free sample of biochar and share with him its benefits for the City of Calgary's environmental management. Thank you Don! Thank you Mayor Nenshi!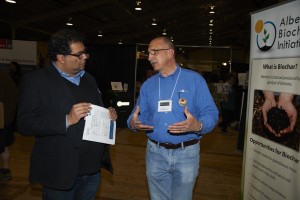 What's next for us? We look forward to many more conversations with gardeners, ranchers, landscapers, soil blenders, greenhouse growers, and an increasing number of informed enthusiasts. We hope to have a conversation with you some day to learn more about your soil enhancement efforts and challenges. We invite your feedback and questions at any time. Please contact us using the form provided here.